Floor Care
Our mat rental service keeps your entrance clean and safe for your customers or employees. North Star Linen will supply the mats for a week period and return the following week to exchange the dirty mats for clean ones.
If you require floor mats on a bi-weekly or seasonal basis only, North Star Linen is willing to accomodate you with a contract that suits your needs.
Floor Mat Service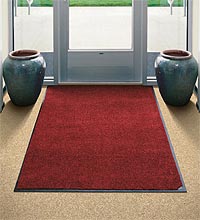 Our programs offer flexibility and can be customized to meet your needs. A North Star Representative will visit your business to carefully remove soiled mats and replace them with clean mats.
Prevent soil and debris from being tracked through your facility.
Protect your flooring and carpeting.
Enhance your facility appearance and image.
Promote safety prevents slips and falls.
Promote safety with safety slogans printed on mats.
Improve comfort and productivity.
Prevent snow, slush, and salt from being tracked onto your floor.
Custom logo mats available.
Benefits of our floor mat service:
No Inventory Investment.
Convenient Service Visits.
Choice of Size and Colors.
Flexible Terms for Changing Needs.
Careful Removal of Soiled Mats.
Replacement with Clean Mats.
Professional Cleaning and Sanitizing.
Safety Awareness.
Consider placing our floor mats in:
Entrances.
High Traffic Areas.
Door and Hallways Near High Soil Areas.
Kitchen and Vending Areas.
Coffee Stations and Water Fountains.
Service Counters and Waiting Areas.
Employee Work Stations.
For more information call 1-800-461-5756 or contact us at uniforms@northstarlinen.com.