Protective Apparel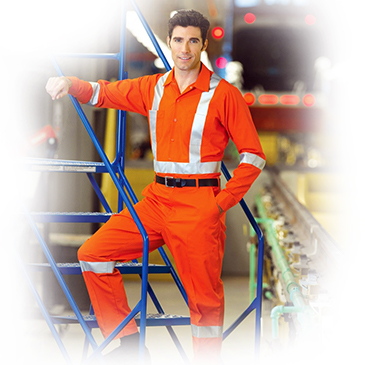 We offer a complete line of rental clothing for industrial applications. These fabrics are lightweight, durable and have been rigorously tested.
All garments are available with reflective striping for maximum visibility.  We carry protective wear that is considered the best in the industry.
Arc Flash Clothing with Westex
INDURA Ultra soft
Nomex III by Dupon
HRC class 2 coveralls, shirts and pants
High Visibility
3M reflective tape available in 50mm (width) as well as triple trim (4″)
Customer Logos
Embroidered logos
Sublimation printing
We can also add employee names to their garments.
Coverall Rental Service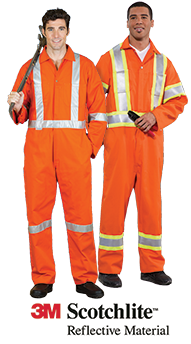 North Star Linen can supply your operations with a wide range of coveralls and uniforms to suit your work environment.  From high visibility coveralls to regular coveralls and uniforms, we have a great selection available for you.
We supply an inventory of  5 coveralls or more per employee, for a total of 2 changes per week. Two uniforms are in your employees' locker, 2 are being serviced by North star Linen and the fifth set is the one that is worn on on the day of the uniform exchange. In this way, we do not need to disturb your business during the exchange process.
You have the option to increase the number of changes to suit your needs at any time.
We are also very knowledgeable in the Arc Flash industrial clothing including Nomex and Indura. We always make sure your Arc Flash clothing is maintained and repaired to the manufacturers' specifications.  Your employees work hard for you, and they should not be bringing the contaminated soil or elements home to their families.
Let us take care of this for your business.
The rental program can be modified to suit all of your needs from two changes per week to five changes per week.
Learn more about our Industrial Laundry Service.
Locker System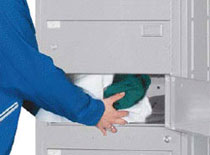 North Star Linen offers the Locker System to facilitate the distribution, control inventory and losses. Our program also includes bins or cards to manage the soiled inventory.
Our system makes the distribution of the coveralls or uniforms to your employees simple and effective.  Each individual has their own shelf and key.  The lockers are designed so that they are the only ones who have access to their designated rental items.  This allows us to exchange and organize the distribution of their garments while assuring security to their rental items.
We would be happy to design a system that works best for your environment and Team. Let us know how we can help to better manage your uniform requirements!
For more information call 1-800-461-5756 or contact us at uniforms@northstarlinen.com.
Testimonial
Personally, I'm extremely pleased with product turnaround, the service provided and the courteous staff who work for North Star. Anytime I've ever had any concerns, Mitch has been here in the blink of an eye to solve any issues I have. It's actually surprising how quickly he arrives sometimes. The latest, was when Mitch came over recently because he heard through the media that we had a devastating fire at our sawmill, burning the building from end to end. Mitch was one of the first people to call and check in with us. His response time to holding all deliveries until further notice was unmatched. He truly seemed sympathetic to our situation and was willing to do anything to help out.
Paul Mainville
Purchasing Agent, EACOM